Leeann's Therapeutic Massage...
A Healing Touch
Due to Covid-19 the office is currently closed.
Leeann Bennett, NYS Licensed Massage Therapist, provides deep tissue massage, Hot Stone Massage, Swedish relaxation massage, bodywork, and trigger point therapy. Her work addresses back pain, stress management, headache relief and muscle soreness.
Call 315-778-1048
Come to the office nearest you!
305 State St Carthage, NY in Jefferson County
(Near Fort Drum)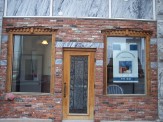 Carthage Harrisville
or
35 Whispering Winds Drive, Harrisville NY
(off County Route 23)
in St. Lawrence County
Better health is a massage away!
email: leeannbennett@massagetherapy.com